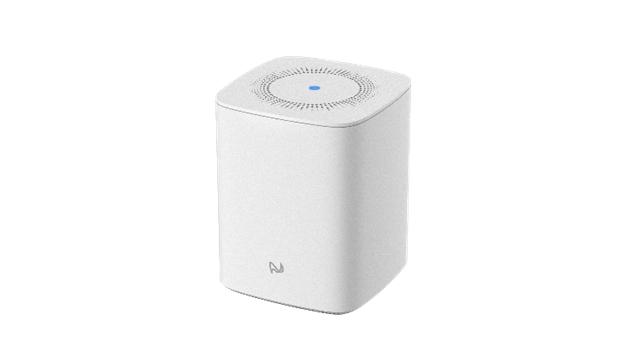 The arrival of 5G era means the higher requirements of users for the Internet speed of intelligent devices. Does the router in the house of the user need to be replaced? Routers are indispensable intelligent electrical devices for every family. Intelligent devices such as computers, mobile phones, TVs and home cameras all need to be connected to the wireless network via routers. As the router configuration, network speed, signal, security and simple configuration have become important indicators for users to choose a router, JD Cloud Wireless just emerged at the right moment. This is a home router product with 2100M intelligent acceleration and intelligent edge computing function. Based on the built-in high-speed storage chip and idle network resources and computing resources of the JD Wireless router, users can preset and download such large files as video, audio and installation packages in advance. It can optimize the user experience of Internet surfing to let users enjoy smoother video watching, file downloading and other Internet functions.
In terms of performance, what are the advantages of JD Cloud Wireless? It is equipped with 6 non-visual high-performance antennas evenly covering all dimensions so that the faster and more efficient data transmission can be realized; has two independent PA (power amplifier) and LNA (low noise amplifier) built inside, and 4-channel iPA (built-in power amplifier) + iLNA (built-in low noise amplifier) integrated for a greater signal transmission distance, a stronger wall-penetrating performance, and a larger coverage/ Its wireless protocol is upgraded to 802.11ac wave2; MU-MIMO technology is supported; the dual band concurrent rate of 2.4G and 5G can be up to 2100Mbps, so that the wireless performance can be greatly improved. It can also be connected to more than one hundred intelligent devices and these devices can be used to surf the Internet at high speed and stability. It has built-in intelligent accelerating capability to help users to get an experience of Internet surfing at higher speed; fully supports access to IPv6 address; is equipped with professional thermal design... to escort users with an experience of free Internet surfing.
It is worth mentioning that the built-in intelligent accelerating and edge computing capabilities of JD Cloud Wireless possess the special function of preset downloading in advance. Based on the built-in dual-core CPU, super-large memory of 512MB DDR3 and bucket of 128G (for storing system files and programs instead of inputting user data) of routers, the files cached can form edge computing meshed network through the P2P technology and others wireless routers. By matching algorithm of shared hot-spot files, users of wireless routers can enjoy more intelligent, fast and convenient wireless network services. At the same time, users can also perform operations such as data reading and writing, video watching and file downloading at a stable and high network speed.
From the perspective of product details, JD Cloud Wireless, using cylinder-shaped design, looks simple and elegant. There is heat emission holes designed on the top. After being electrified, the LED status indicator lamp at the center on the top will be lit in red, blue and green, respectively indicating three statuses of powered-on but non-networked, network connected, as well as router and APP associated (intelligent acceleration), so that the user can be clear about the working condition of the machine at a glance. Besides, it is designed with a skid-proof silicone pad on the bottom and a round of heat emission holes on the inclined side. The explanatory notes on the bottom contain the default WiFi name, the managed IP address, and the QR code exclusively belonging to JD Cloud Wireless APP. On the back, there is a USB port provided for external storage. Through Samba service, it can access to and manage files in external storage, and is adaptable to 1 gigabit WAN port, 2 gigabit WAN ports and power input ports with high speed broadband up to 1000M.
For most users, the home routers are old now, and if it is convenient to replace a new router is one of what they concern about. There are only three steps for installing a JD Cloud Wireless Router: firstly, connect the PC/mobile phone/Pad to the WiFi of the router and then enter the router management interface through 192.168.68.1; secondly, select an outgoing connection setting to surf the Internet, and input information of broadband account or password required by the corresponding mode; finally, set the WiFi password and administrator password. After setup completed, the user can scan the QR code to download the JD Cloud Wireless APP and associate it to the mobile phone, so as to manage and control the device more conveniently.
Among other things, the network-concealing function of JD Cloud Wireless can effectively prevent unknown devices from hacking into your WiFi network. Users can also set up one-click Internet access forbidden in the JD Cloud Wireless APP to prevent unknown WiFi squatters and ensure the home network security; and set speed limit for identified devices, including upload, download, Internet reminder and other operations, to reasonably regulate children's Internet habits at home.
The JD Cloud Wireless Router with high configuration, high-speed Internet connection, excellent signal, high security and simple configuration was officially put on sale on December 10.
For more information, please log in JD Cloud APP to search "JD Cloud Wireless Router" or click **https://item.jd.com/100010373270.html**.