On December 13, the signing ceremony for the cooperation project of "JD Cloud Digital Economy Headquarters in Zhejiang Region" was held in JD Group Headquarter. Leads of the People's Government of Leqing Municipality and JD Cloud and AI Business Unit attended the conference on the same day. Fang Hui, the Secretary of Leqing Municipal Party Committee, Xu Haiyan, the Deputy Mayor of the People's Government of Leqing Municipality, Du Zhengping, the Vice President of JD Group, Zhao Bin, the General Manager in the Eastern Region of JD Cloud and AI Business Unit, and relevant persons in charge of JD Retail and JD Logistics attended this signing ceremony.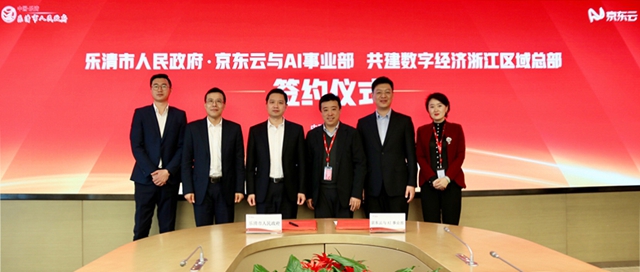 As the main cradles of "Wenzhou Mode", Leqing has a dozen of industrial clusters with advantages and characteristics, such as high- and low-voltage apparatus, electronics, instruments, automobile and motorcycle accessories, drills, precision molds, and Dendrobium officinale planting and processing. Being the only one city in Wenzhou named as the provincial pilot powerful industrial city, Leqing was the first to build a 100-billion-level electrical industrial cluster in the areas of Wenzhou and Taizhou. As JD Group's external empowerment window of technology, resource and service, JD Cloud and AI Business Unit joined hands with Leqing City to build the "JD Cloud Digital Economy Headquarters in Zhejiang Region" to promote the deep integration of the Internet, big data, AI and the real economy, strive to develop the industrial Internet, strengthen the support capability for digital transformation, comprehensively drive the digital transformation of manufacturing, service industries, agriculture and other industries, vigorously cultivate new modes of new convergent industry situation, and deeply implement the construction of a comprehensive national demonstration zone with the deep integration of IT application and industrialization.
In the future, the parties will jointly promote the implementation of the "4 Ones" Program (one provincial digital economy industry headquarter, one provincial digital economy institute, one provincial big data center, and one "Intelligence+" industry innovation center), so as to make Leqing a highland of national digit economy industry, help Leqing's relevant industries such as low-voltage apparatus, cross-border e-commerce and intelligent manufacturing with transformation and upgrade, and constitute new driving force for mass entrepreneurship and innovation and development of new economy.