Enterprise JD Cloud Onboarding so far has become an important way to promote digital transformation of enterprises. As traditional enterprises are generally facing challenges of being difficult to control costs, connect to customers and upgrade technologies, enterprises have to take the lead in realizing real-time on-line business to increase the problem-solving efficiency and finally accomplish intelligent business. At this time, the Hosted Private Cloud service becomes the best solution for enterprise JD cloud onboarding.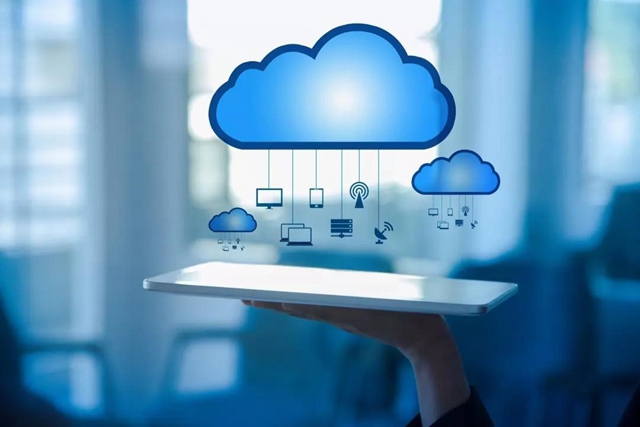 Private cloud that exclusively built for and used by one customer can provide the most effective control of data, security and service quality. Deploying it in a secure co-location center can largely secure the data security and provide enterprises higher security.
Enterprises only need to rent infrastructures, server devices, software authorization and other service according to the demand through Hosted Private Cloud, so that they can freely select hardware device, network bandwidth and software license of their own, largely reducing use costs for enterprises.
The Hosted Private Cloud now supports standard VMware suite, including vSphere, vSAN and NSX, etc. Customers are allowed to carry out resource management and service setting via vCenter, helping users have operation experiences as the same as that in the local data center.
According to the report of MarketsandMarkets™ on Cloud Cabinet Service, "the CCS market size is predicted to increase to 53.78 billion US dollars by 2022, and CCS will turn a new page for cloud computing.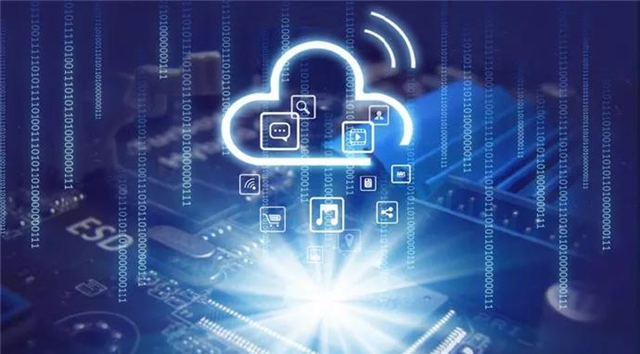 Therefore, recently JD Cloud entered into the cooperation with VMware, a global leader in virtualization software, and released the Hosted Private Cloud-V Solution. Relying on the hosted "Family Meal" (a Cloud Cabinet and Physical Computing product), JD Cloud provide customers with cabinet (core data center/edge node), server, network device, bandwidth, IP, direct connection and other physical resources, full range of originally authorized VMware software suite as well as high-quality DevOps Service of data center.
JD Cloud's Hosted Private Cloud particularly offers two VMware Ready Node certified server packages, in addition to software license modes rented on demand through VCPP and value-added services of customized software deployment and configuration, to assist enterprises in smoothly migrating the public cloud IDC environment.
By virtue of the Hosted Private Cloud-V Solution, customers can follow the simple and efficient Virtual Machines management based on VMware vSphere, stable and reliable shared storage based on VMware vSAN, and complex and efficient network load based on VMware NSX, thus to transfer their business systems to public cloud IDC environment smoothly and rapidly.
Additionally, customers can implement seamless access between the hosted VMware environment and JD Cloud public cloud products to simply archive the Hybrid Cloud environment only through a direct connection or internal private network.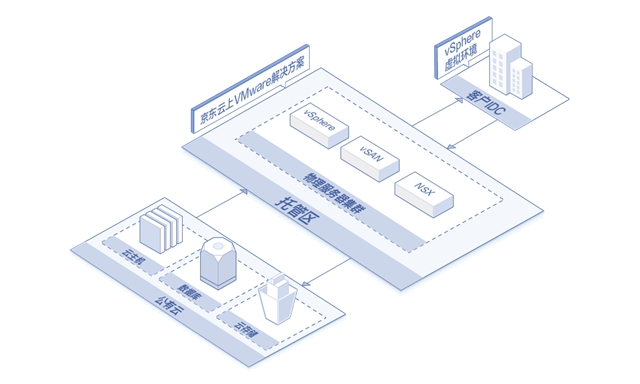 JD Cloud Hosted Private Cloud-V Solution is capable of providing the one-stop services including hardware, software, migration Consulting, installation and deployment, DevOps Service, high-quality T3+ data center, single-line&BGP Monoline & BGP Bandwidth, and customized specialized server device, owns an expert team and offers professional pre-sales support and 7*24h after-sales quick response. It has a lot of advantages, such as JD Cloud's public cloud network security guarantee capability, 2G default basic DDoS protection, 50G optional protection package, and T-level Anti-DDoS Pro ability.
In the future, intelligence will become not only the development direction of all business models, but also the driving force for enterprise innovation. Cloud service like JD Cloud Hosted Private Cloud-V Solution is just what's needed in order for better development of intelligence.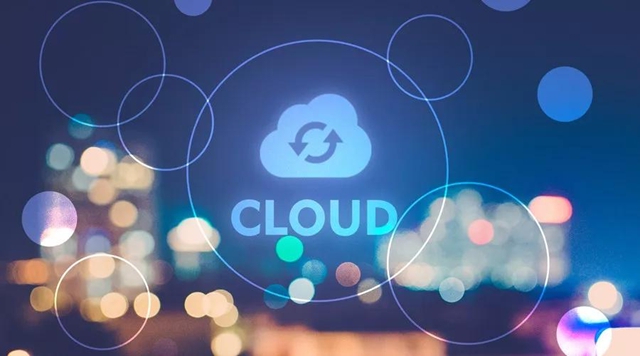 From perspectives of top-level design, professional design, system construction, and system operation, JD Cloud Hosted Private Cloud-V Solution quickly organizes the enterprise data, shorten the enterprise management path, rapidly customizes the enterprise intelligence platform at low cost, and empowers the enterprise intelligence.
In the new era driven by data, the development direction of enterprises has become more and more clear. With empowerment by JD Cloud Hosted Private Cloud Service, enterprises will accelerate their steps into the "cloud".